Oh Jeez, tomorrow is only Wednesday. Talk about a slow week. Though, with all I have to get done, I should be loving a slow week.
So, what's been happening?
Sunday I went to Mimi's class and found myself in the majority--more than half the class had no show and tell for the past month. Phew! Glad that it wasn't only me that slacked on applique in February.
I did get something done (that I worked on until 4:00 a.m. the night before class--can you say pro-cras-tin-a-tion?)
Of course, I also like to support the quilt shop that hosts Mimi's class, especially since they always have some sort of coupon offer going on. They had a half wall of red and white fabrics that I just couldn't pass by. I've always wanted to make a red and white quilt (well, I've always wanted to make one since seeing the quilts in the Infinite Variety exhibit (which, is a very nice iPhone app if you've got an iPhone). I figured what better time than to snag a stack of half yard cuts to start me on the path to a red and white masterpiece.
Five yards is a pretty good start for something scrappy. I've uploaded the photo to my Fabric Stash app (on my iPhone), so whenever I happen upon some tantalizing red and whites I can open this photo and see what might play nice with these.
I wasn't a total slacker this weekend. I did finish my block for our Guild Raffle Quilt for 2013. It's going to be a large Edyta Sitar Farmhouse quilt.

And, thanks to Aurifil thread, my new favorite thing is hand embroidery. I got a start on the March Aurifil 2012 Designer's block. I'm not chain-stitching it, as the sample was done. I'm liking the whole backstitch look, so that's what I'm currently hung up on. Speaking of Aurifil, I was totally honored after doing my first block in this series when I got a shout out and a link to my post on Alex Veronelli's Facebook page. (
He's that hunky Italian guy from Aurifil Threads
). I felt as if I'd won the Academy Award (just like my ex-brother in law did for feature documentary-Undefeated this year). I linked you to an interview posted today on Fat Quarterly.
Last night was our monthly Guild meeting. The speaker was
Gyleen Fitzgerald aka the Pineapple Quilt lady
. I was going to leave early until I looked up and noticed that the place was filling up more so than usual. And I could hear a couple of ladies discussing how entertaining Gyleen was, so I sucked it up and decided to hang around. I was so glad I did.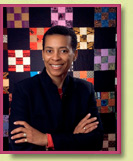 Gyleen was extremely entertaining. She was engaging, totally at ease, not to mention she makes fabulous quilts with even more fabulous backs, and most of them are made from scraps. Not a fan of pineapple quilts, having seen the photo for the workshop she held on Sunday (same time as my Mimi class), once I saw her quilt in person, I was gobsmacked. What a great looking quilt. And then a whole bunch of people from the workshop stepped up all smiles and grins and showed off the pineapple blocks they made in her workshop, and they all looked super.
I wished Gyleen would have spoken for another hour and brought a few dozen more quilts to show us. I want to be one of her quilting friends, I want to swap blocks and charms with her, I want to join her guild, as from the stories she tells they sound like a fun group. But since that's not going to happen, I did the next best thing. I purchased a pattern and her Polygon tool....
And I purchased her pineapple tool and a copy of her Trash to Treasures Pineapple Quilt book (which should arrive in the mail soon---she sold out at our meeting).

And today I went to Gyleen's
website
and signed up for her newsletter and checked her schedule to find that she will be teaching 3 full day workshops at
MAQ (Mid Appalachian Quilters)
in Emmitsburg, MD in July, one of which is the Pineapple Quilt. Guess where I'll be? :)
Bonus....the MAQ site gets you psyched for their event by running a
Merry Mayhem Mystery Quilt
on their site. A new instruction is posted every 2 weeks. The first one posted last week, so if you like mysteries, you might want to check that out--especially if you're a fan of Merry May.
I see that the clock has struck midnight, so that means I should thread a needle and get to work on one of those blocks. (Or lose all control and order another dozen spools of 12 wt. Aurifil thread.)
Happy Wednesday!